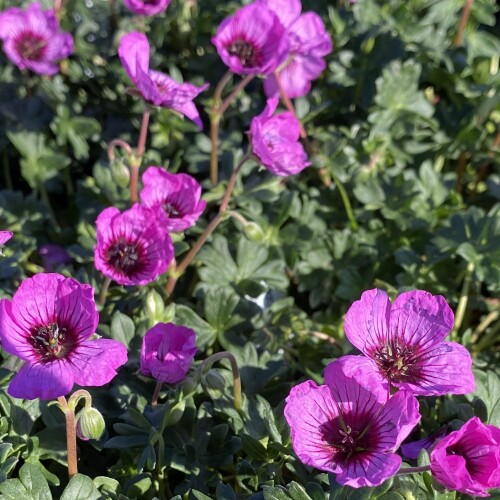 Key Features: Purple flowers with a deep cerise centre, held over a compact mound of small, grey-green leaves.
Height x Spread: 6 x 8 inches (15 x 20 cm)
Preferred Aspect: Sun
Flowering Period: May - October
The cinereums are the smallest of all Geraniums, growing only to a height and spread of approximately 6 inches. They are perfect for rock gardens and alpine beds as they require full sun and excellent drainage. It is important to add grit to the compost or ground in which they are to be planted. They will work well in containers due to their size, again, so long as good drainage is provided. They come in very bright and striking colours, although there are some more subtle shades, if that's more what you're looking for. They will come back and flower a second time after being cut back mid-season, and they are hardy down to minus fifteen degrees Celsius. They are one of the few Geraniums that will retain foliage during the winter too. And as with most Geraniums, they are excellent for pollinators!
Hardy Geraniums are one of the most diverse genera of herbaceous perennials. It is possible to find a Geranium to suit most parts of your garden, from the vast range of species and varieties available. They complement most other plants beautifully and, chosen wisely, can provide a continuation of colour in the garden from spring through to early winter.
Please note that the heights, spreads and flowering periods mentioned are approximate, as they can be affected by your soil type, light levels and other various conditions that may surround the plant.