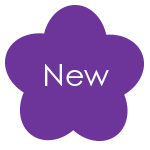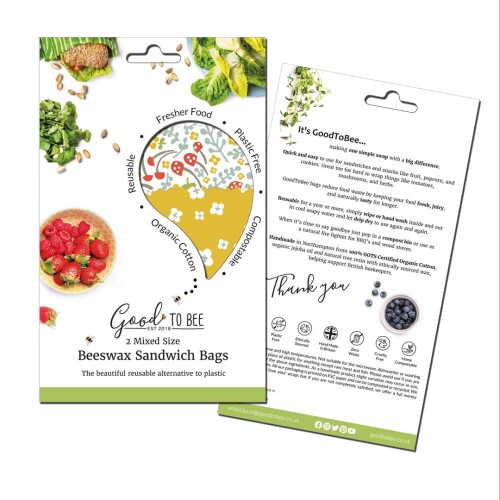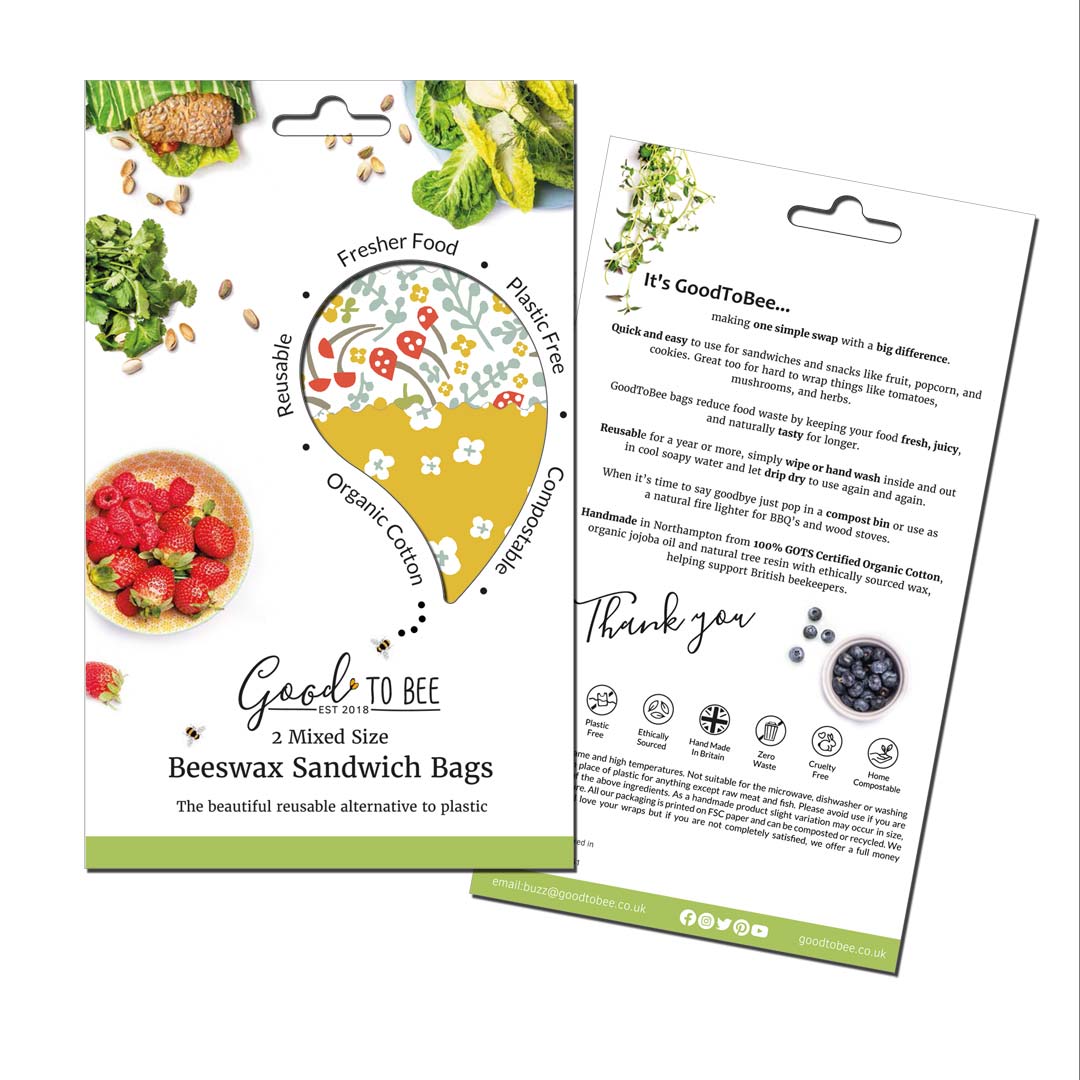 These Sandwich and Snack bags are a game changer! Replacing fiddly plastic zip-lock bags and bulky lunch boxes. All the benefits of wraps but in half the time.
The beautiful vibrant designs are inspired by the colours and textures of nature working in harmony with our amazing planet. Classic, timeless, and stylish.
The bags are handmade from soft organic cotton and printed with organic dyes. They are infused with ethically sourced bees wax, tree resin and organic jojoba oil which all have antibacterial, antimicrobial and/or anti-fungal properties. Please avoid use though if you are allergic to any of the above ingredients.
Super quick for morning packed lunch prep

Easy for little fingers to manage with no spills

Use for sandwiches and snacks, rice and pasta salads, anything cold

No more bulky lunch boxes to carry, just fold flat when done

Perfect fridge storage for hard to wrap items like mushrooms and herbs
Reusable for a year or more, simply wipe or wash inside and out with cool soapy water and let drip dry to use again and again!
The average family wastes on average £700 of food a year and uses over 2000 sq. ft of single use plastic. GoodToBee Food Wraps help preserve your food without plastic, are easy to clean and are simply a joy to use.
Greener living starts in the heart of the home.
This pack includes the following:
1 x Medium Bag 18 x 18cm
1 x Large Bag 22 x 20cm
Packaging and Product are all plastic free and fully compostable. No additional paperwork will be included in your order to reduce waste and save paper.
Avoid placing near naked flame and high temperatures. Not suitable for the microwave, dishwasher or washing machine, as the wax will melt. Use in place of plastic for anything except raw meat and fish.
As a handmade product slight variation may occur in size, colour, and texture but this is all part of their natural beauty.
Please choose your preferred design from the menu. The menu selections refer to the image positions on the left.